Diagnosis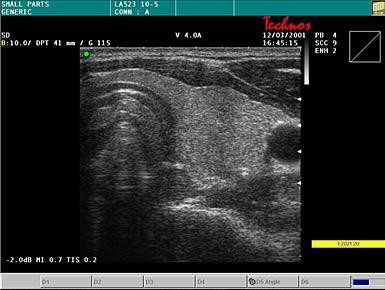 Diseases of the thyroid gland are widely spread in Germany. The reason for this is the low iodine content in our diet. The typical consequence is the enlargement of the thyroid gland. But in the case of a long-standing iodine deficiency, thyroid nodules can often be formed.
Thyroid sonography

Determination of thyroid gland values

Hashimoto's thyroiditis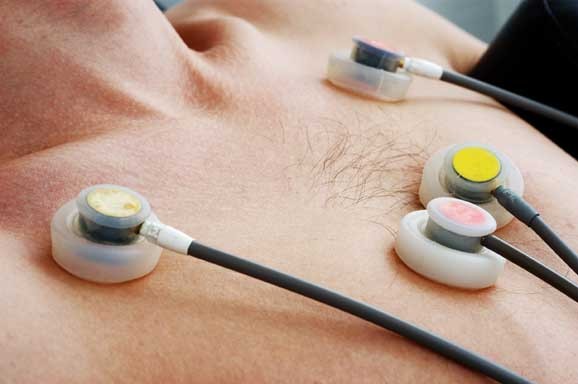 Heart diseases, such as heart attack or cardiac insufficiency, are the most frequent cause of death, if compared to cancer. Therefore, preventive diagnostics is of outstanding importance in this field.
ECG

Exercise ECG

Echocardiography

Stress echocardiography

Long-term ECG

Event recorder

DMP coronary heart disease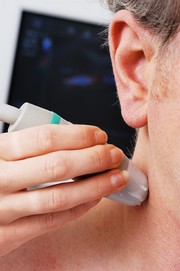 We are as old as our blood vessels are.
As a precaution of heart attack, stroke and circulatory disorders, we examine your heart and blood vessels by colour Doppler ultrasound.
Colour Doppler sonography of the carotid artery

Colour Doppler sonography of the leg arteries

Peripheral measurement of arterial blood pressure

Long-term blood pressure measurement

Measurement of pulse wave velocity

Light reflection rheography
In the case of complaints in the area of gastrointestinal tract, we first of all perform an ultrasound of abdominal organs as a basic examination. This examination can be carried out without preparation and is, above all, less burdensome for the patient. The continuative endoscopic diagnostics, such as gastroscopy or colonoscopy, is performed only in special cases.
Abdominal sonography

Gastroscopy

Sigmoidoscopy/Colonoscopy

H2-breath test
Pulmonary and bronchial diseases belong to the most frequent internal diseases. Computer-aided pulmonary function diagnostics is easy and fast to perform. Due to this, it is mostly possible to avoid radiation exposure of an x-ray examination. As a routine procedure, we measure the oxygen content in blood. We detect sleep apnoea by means of outpatient sleep apnoea diagnostics.
Pulmonary function diagnostics

Oxygen measurement

Outpatient sleep apnoea diagnostics

DMP bronchial asthma/chronic bronchitis
Even recreational athletes should regularly undergo a check-up. This applies all the more, if you want to start doing sport again after a longer period of time. In addition to ergometry and lactate threshold test, we also perform a thorough internal basic examination with extensive laboratory tests such as colour echocardiography.
Ergometry

Lactate threshold test

Performance diagnostics

Echocardiography
Diabetes mellitus belongs to the most important so-called diseases of civilisation. Wrong nutrition and overweight have lead to a rapid increase in the spreading of diabetes. Regular check-ups, detecting eventually occurring consequential damages, are as important as intensive nutrition consulting.
DMP diabetes mellitus

Testing for organ damage

Foot examination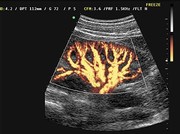 The organs of the urogenital tract, such as kidneys or bladder, can be quickly and easily depicted by ultrasound. Due to this, it is mostly possible to avoid continuative diagnostics with radiation exposure, as for example, an x-ray examination of the kidneys. The PSA determination can be reasonable for early detection of prostate carcinoma.
Kidney sonography / bladder sonography

Prostate sonography (men)

PSA counselling (men)
Diseases of the musculoskeletal system, such as back or joint pain, are mostly caused by the signs of wear or inappropriate muscle tension, which can be depicted on an electromyogram. The special laboratory tests should, however, also exclude inflammatory diseases, such as rheumatism. Bone density measurement can be reasonable for early detection of osteoporosis.
Bone density measurement

Electromyogram

Early detection of rheumatism
A thorough health check-up also includes an examination of the sense organs. Vision disorders often develop slowly and unnoticed and are often detected only during the eyesight test. For early detection of glaucoma, it is necessary to carry out the measurement of intraocular pressure and the visual field test. A hearing test often shows the decrease in hearing ability, caused by excessive noise.
Visual field test (perimetry test)

Intraocular pressure measurement

Hearing test
Due to the fact that our blood has access to all parts of the body, laboratory tests are of great importance. They are performed relatively easy without any stress for the patient. A blood test gives us necessary information, telling if the organs still function flawlessly.
Practice laboratory for emergency diagnostics

External joint laboratory

Cooperation with specialised laboratories